Betkil Shukvani - Georgian Olympic judo star
It was disconcerting to
read
that a Georgian Olympic star in judo,
Betkil Shukvani
may have been intimidated by first fellow athletes from Georgia and then bizarrely, by the country's Deputy Sports Minister. The reason for verbally attacking the 24 year old young man who was representing his country at the world's premier sporting event? He had issued a statement of support for the Opposition party,
Georgian Dream
, just before heading to London. Apparently, he was subjected to abuse on the plane leaving Tbilisi for his political views and then he received an omninous visit in London by the Deputy Sports Minister, Mr Giorgi Udesiani accompanied by several other men. I fear for Betkil's safety and urge the Government of Georgia to end such extreme actions.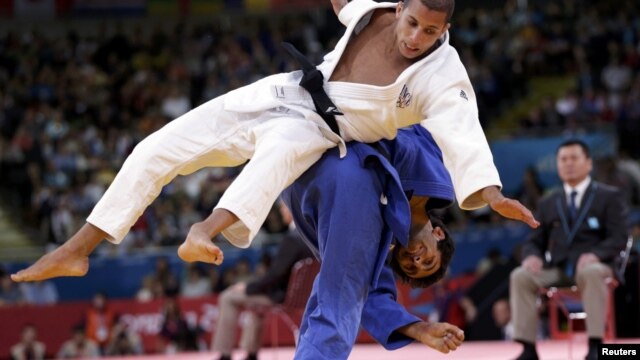 Betkil goes out at London 2012 Olympic Games
This 'delegation' had not arrived at the Olympic Village to wish him luck or cheer him on but rather to chatise him for his political views. The democracies of the world must be looking on and shaking their heads in disbelief that Georgia is embarrassing itself by such a display of state paranoia.
The Ministry of Sport
has issued a
denial
but it provides no information on what really happened. Their denial's ring hollow.
The Government of Georgia should understand that such stories make the country look bad in front of the world's media and other Governments. We must modernise our democracy and guarantee freedom of speech. Everyone is entitled to their own views whatever their profession. This episode demonstrates again that the Government of Georgia is afraid of opposition's opinions. We will never see the European Union agree to an application from Georgia whilst the Government uses tactics of harassment and intimidation to try and silence the opposition.